Long Beach Drug Crime Attorney
Getting caught up in drug-related charges in Long Beach, California can represent an extremely stressful and scary time in someone's life. One does not need to be a major drug dealer to face serious legal consequences. Even simple drug possession can be prosecuted as a serious criminal infraction, and the penalties for crimes like distribution and manufacturing are even more severe. If a substance issue has led to criminal charges, or you've found yourself in the wrong place at the wrong time, a stout drug crime defense may be needed to minimize the charges and sentences brought against you.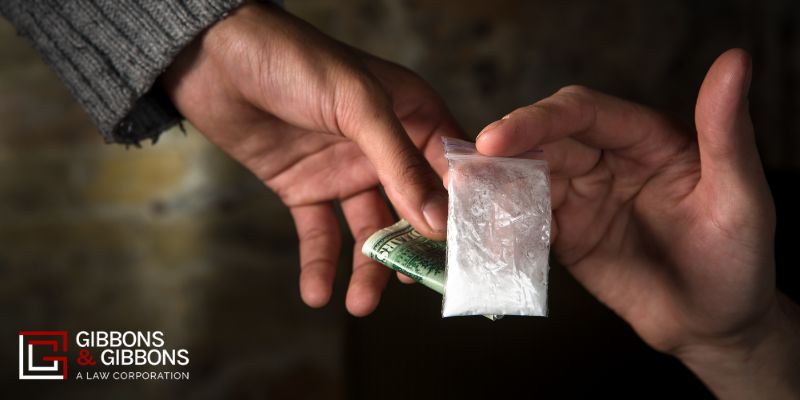 Empathetic and Effective Drug Charges Defense Attorneys in Long Beach
Enter Gibbons & Gibbons, a trusted Long Beach criminal defense team ready to go to work on behalf of you, your rights, your future, and your freedom, no matter what sort of legal battle you may be facing. Our sterling reputation throughout Southern California is built upon our record of success navigating the complexities of drug-related charges. Our firm builds totally customized legal strategies for our clients that can effectively mitigate the consequences of even the most serious drug-related charges. Grounded by a steadfast commitment to safeguarding your rights, and empowered with a deep understanding of California's intricate drug laws, our highly skilled criminal defense team is prepared to fight for you.
At Gibbons & Gibbons, we understand the profound impact that drug charges can have on a person's life. Our understanding drug crime defense attorneys are well-versed in handling a wide range of drug-related cases, from simple possession to more complicated drug trafficking or manufacturing offenses.
With a proven record of success in the courtroom and a peerless reputation in the Orange County community, our team is standing by to craft a robust defense strategy that is tailored to meet your unique situation. Every drug case is different, and that's why our collaborative approach to criminal defense puts the client's unique circumstances at the core of our strategy and ensures that they can receive a trustworthy advocate for their case.
California Drug Laws and Your Defense
Effectively defending against drug charges in court requires insight and detailed knowledge. California's legal code is vast and complex and, in most situations, only a qualified lawyer can fully understand and explain the complete legal implications of your drug case
Here are just a few of the elements that must be considered in building a solid defense against drug charges:
Drug possession: The possession of illegal drugs in California is covered under Section 11350 of the state's Health and Safety Code. HS 11350(a) codifies the illegal possession of a controlled substance as a misdemeanor that can be punished by nearly a full year in jail. It can also leave the defendant subject to random drug testing and searches if convicted.
Possession with intent to sell: California law additionally criminalizes possessing controlled substances with the specific intent to sell or otherwise distribute them. This is a more serious crime than simple possession, and it carries more severe sentences. The difference between possession and possession with intent to sell may seem like a subjective issue that would require evidence and testimony specific to the case, but the charges often get reduced down to one simple factor: the quantity of drugs found at the time of arrest (or when executing a search warrant).
Drug trafficking: "Trafficking" of narcotics refers to their illegal manufacture, transportation, and distribution. Trafficking cases in Southern California are sometimes tied into larger organized crime investigations, and, as such, low-level offenders can sometimes be swept up in a bad situation, facing outsized charges due to their adjacency to criminal activity. Convictions that occur at this level usually involve significant prison sentences, so it is important to fight drug trafficking charges vigorously in court.
Sentences for drug crimes in California can vary widely depending on the charges that are being brought, as well as other extenuating factors, such as:
Previous criminal history
The use of firearms in the commission of a drug crime
The quantity of drugs taken into evidence
Whether minors were targeted (i.e., in drug sales and trafficking cases)
The Gibbons & Gibbons Approach to Drug Crimes Defense
You have many options for qualified defense attorneys in Long Beach and the greater Orange County area. However, there are a number of reasons why Gibbons & Gibbons stands out in the crowded SoCal market:
The Right Tools – Our attorneys and support staff are well-trained and have a deep understanding of California's drug laws. We have successfully defended clients against a wide range of criminal charges.
Strategic Defense – We analyze every detail of your case with meticulous care to build a totally custom-tailored defense strategy that can take every possibility into account, mitigate the consequences of your charges, and steer proceedings to the greatest possible outcome.
Assertive Representation In and Out of Court – Gibbons & Gibbons can advocate fiercely for your rights at every step of the process, no matter how complex, challenging, or high-profile your case may be.
Empathy and a Personalized Touch – The personalized, client-focused nature of our defense strategies informs every phase of our business, meaning that we're here to listen to your side of the story and support you, in and out of the courtroom.
Long Beach Drug Crimes FAQs
Q: How Do You Beat a Drug Sale Charge in California?
A: When someone is charged with selling illegal drugs in California, a successful defense often hinges on challenging the state's evidence, finding procedural errors in the arrest, or demonstrating a lack of intent (i.e., that the drugs were for personal use only, leading to a lesser charge). Doing so will require a skilled criminal defense attorney.
Q: How Long Do You Go to Jail for Selling Drugs in California?
A: Sentences for selling drugs vary widely in the state of California. The exact sentence that an offender will receive will be based on factors such as:
The type of drugs sold
The quantity of drugs in your possession
Prior criminal history
The quality of your legal defense
These sentences can range from probation and fines to many years in prison.
Q: What Are the Hourly Rates for Criminal Defense Attorneys in California?
A: Hourly rates for criminal defense attorneys here in Southern California can vary quite a bit based on:
The locality
The complexity of the case
The type of criminal charges
The quality of your lawyer
You should typically expect to budget a minimum of $250 per hour for competent criminal defense work, with some high-end firms charging significantly more.
Q: What Is the Penalty for a Drug Crime in California?
A: This question represents a misunderstanding of how complex and multifaceted California's criminal code is concerning drug charges. The penalty for a drug conviction will vary massively based on what the specific charges are and how strong your defense is. Possibilities include fines, probation, mandatory drug treatment programs, and time in prison.
Contact Gibbons & Gibbons
California and local authorities in Orange County prosecute drug crimes aggressively in an effort to keep the streets clean for citizens. If you are charged with a drug-related offense, you can fight back with quality legal representation from Gibbons & Gibbons. Contact us today to learn how we can help.