Theft Crime Defense Attorneys in Los Angeles, CA
More than 60 Years of Dependable Client Advocacy
Any time a person is accused of taking someone else's property with the intent to deprive them of it, they can be charged with theft. Each of these charges carries a different level of penalties should you be convicted, including fines, jail time, and the challenge of living with a criminal record. If you or someone you know was charged with such an offense, make sure to get help from the Los Angeles theft crime lawyers at Gibbons & Gibbons for a free consultation about your case.
We have more than 60 years of shared legal experience and have represented more than 3,000 people over our years practicing criminal law. We are a family-owned practice, and we treat all of our clients with the respect and care we would for our own family members.
Schedule your free consultation today by calling (562) 372-6366 or contacting our firm online.
Following an accusation of theft, your first action needs to be finding an advocate who can help you protect your future and avoid a criminal conviction. Both partners at Gibbons & Gibbons have 10.0 Superb Ratings from Avvo, along with a lengthy list of other professional accolades. We are confident in our ability to help you obtain a favorable outcome and protect your reputation.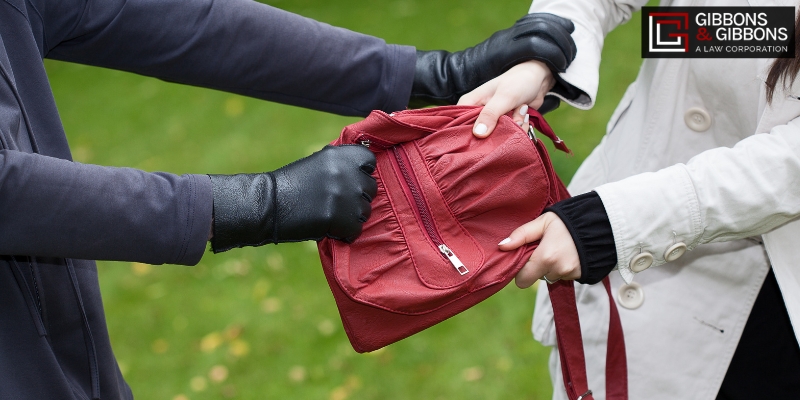 Our firm handles crimes such as:
Petty theft
Grand theft
Embezzlement
Robbery
Carjacking
Credit card fraud
Insurance fraud
Receiving stolen property
Other misdemeanor and felonies
Penalties for a Conviction
If you are accused of committing any crime of theft, the penalties that the court could impose upon you could be life-changing.
Petty Theft Charges
When the value of the item is $950 or less, charges of petty theft will likely be filed. The penalties imposed in a conviction for petty theft for a defendant with no prior criminal history of theft crimes will be up to 6 months in jail and a fine as high as $1,000.
Fines & penalties for petty theft include:
Misdemeanor charges – Up to a year in county jail and/or up to $1,000 in fines
Felony charges – Up to 3 years in county jail and/or up to $10,000 in fines
Trusted Los Angeles Theft Attorney
With the immediate intervention of our theft crime lawyer at Gibbons & Gibbons, it may be possible to have the charges reduced to an infraction, or have the charges dismissed altogether, based upon the facts and the situation. What is most urgent is to get us working with you and seeking out any possible advantage as early as possible.
As seasoned trial lawyers, we are highly skilled and confident in our ability to develop a well-crafted case for your defense. Our firm only handles criminal cases—it is the sole focus of everything that we do. We urge you to connect with us immediately if you have been arrested and charged with a misdemeanor or felony theft crime.
Call (562) 372-6366 or fill out our online form now. We serve clients across the Greater Los Angeles area including Whittier, Bellflower, Downey, Hawaiian Gardens, Long Beach, South Gate, Bell, Bell Gardens, Paramount, La Mirada, Artesia, Pico Rivera, and Montebello.