Los Angeles Gang Crime Attorney
In response to an increase in the number of street gangs and gang violence, California lawmakers began passing strict laws against suspected gang members and those accused of being involved in gang activity. There are multiple local, state, and federal laws that target gang activity and elevate the penalties for gang-related crimes.
Within Los Angeles alone, there is a separate gang division staffed with dozens of lawyers within the County District Attorney's Office. The police department also has separate gang units in patrol stations. Any arrest and subsequent conviction in Los Angeles has the potential to negatively impact every aspect of your life. However, gang-related arrests and convictions are likely to carry much more severe penalties, both in a criminal aspect and in your personal life. This may result in feelings of hopelessness and despair as you navigate your life post-arrest. However, an experienced Los Angeles gang crime defense attorney can help you find and obtain a positive outcome for your situation.
The Gibbons & Gibbons team has over 60 years of combined experience in Southern California criminal defense law. We firmly stand behind the belief that everyone deserves a fair chance at justice. Our firm can work diligently to ensure every client has that opportunity. Regardless of your situation or story, our team can defend your rights and build a functional defense for your unique case.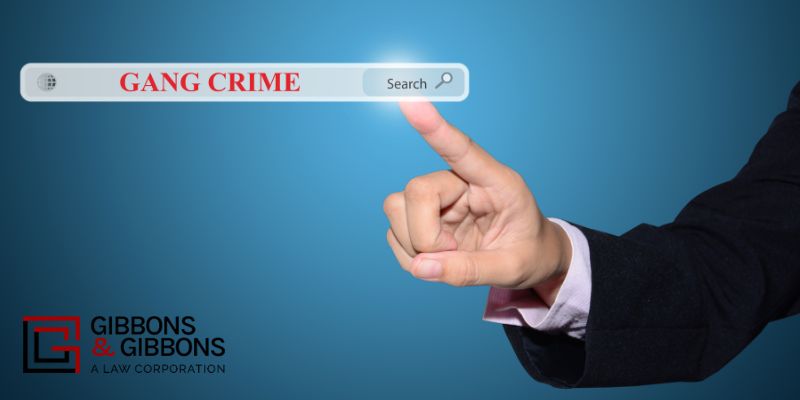 California Gang Activity Definition
A criminal street gang is defined as an ongoing association, organization, or group of three or more persons that participate in criminal activity. A gang consistently commits, as a primary function, at least two of the 33 crimes that are listed in the statute. These specific crimes are:
Mayhem, including aggravated mayhem
Felony vandalism
Robbery
Drug crimes, including the manufacturing, possession, transportation, and selling of controlled substances
Arson
Burglary
Shooting at an inhabited dwelling or occupied motor vehicle
Shooting from a vehicle
Witness or victim intimidation or tampering
Transfer, sale, or delivery of firearms
Kidnapping
Looting
Rape
Torture
Money laundering
Vehicle Theft
Felony extortion
Threats of crimes that are capable of resulting in, or causing, great bodily injury or death
Some of the most common crimes associated with gang activity include:
Robbery
Carjacking
Witness intimidation
Extortion
Burglary
A criminal gang may also use an identifying common name, symbol, or sign. It is not required that the gang have a formal structure, membership requirements, or rules to be classified as a criminal street gang. For a person to be considered part of or associated with a gang, the prosecutor must prove they were aware of these three elements:
They were actively participating as part of a gang.
They understood the gang participated in a pattern of criminal activity.
They knowingly and willfully promoted and assisted in the criminal actions of the gang.
If these conditions can be proven, you are likely to face additional charges and enhanced sentences if convicted. If you are facing any gang crime charges, it is important to speak with a skilled attorney with experience defending clients in a similar position to yours.
Gang Offense Laws in Los Angeles
Gangs have been a part of California's history since its inception. Although the government and law enforcement frequently had issues with these gangs, there was a dramatic increase in the number and criminal activity of street-level gangs in the 1980s. In response, the Street Terrorism Enforcement and Prevention Act, or STEP Act, was passed and codified in Penal Code sections 186.20 through 186.36. Section 186.22, the primary part of the STEP Act, punishes gang members or anyone associated with a gang in two ways.
Subsection (a):This makes it a crime for a person to actively participate in a gang if they are aware the gang engages in criminal activity. Specifically, membership in the gang is not a crime, nor is membership required to violate the STEP Act. The criminal activity involves actively participating in the criminal street gang. This crime is known as a wobbler, meaning that it can be punished as either a misdemeanor or a felony.
Subsection (b):This states that any person who is convicted of a felony that was committed in association with a gang, at the direction of a gang, or for the benefit of a gang will receive a mandatory sentence enhancement. This will range from two additional years in prison to life in prison with the possibility of parole. This additional sentence must run consecutively to the other sentences and not concurrently.
Gang Offense Penalties
If you are convicted of a gang-related crime, you will face the specific penalties of that crime as well as the penalties laid out in the STEP Act. These violations and penalties include:
Participating in a Criminal Street GangSimply being a member of a street gang is not a crime. However, actively participating in a criminal street gang is punishable by up to one year in county jail or up to 16 months, two years, or even three years in state prison, depending on the circumstances.
The Gang Sentencing EnhancementThe STEP Act allows a judge to increase the amount of prison time if a person commits a felony while associating with a gang. Depending on the specific crime and other circumstances of the offense, a judge can add two to fifteen additional years if you receive a gang-related conviction. The judge can even impose a life sentence for the crimes. It is important to note that Los Angeles prosecutors are no longer seeking enhancements for gang connections. This is part of the new reforms to sentencing in Special Directive 20-08.
Prosecutors are also given leeway in these situations. They can enhance any misdemeanor charge to a felony charge if the misdemeanor was accomplished to help gang activity. If the prosecutor chooses to take this route, the gang sentencing enhancement cannot be added to the newly charged felony.
Potential Defenses for Gang-Related Offenses
There are several routes that a skilled attorney can take to craft a successful defense strategy if you are facing gang-related charges.
Prove you have no gang affiliation at all.
Show you are not an active participant in the street gang.
Prove that your actions were not for the benefit of the gang.
Another defense strategy is to attack the underlying felony charge. If the original allegations are successfully challenged, you cannot receive the corresponding gang sentencing enhancement.
Gang Crimes Law FAQs
Q: Does a Person Have to Be in a Gang to Violate the STEP Act?
A: An individual does not have to be in a gang to violate the STEP Act. For example, you are not in a gang but have a friend that you know is in a gang. If you are pressured into helping this friend during a crime, such as by being a lookout, you can be charged with a violation of Penal Code section 186.22. This violation can add multiple years to your sentence.
Q: Do I Need a Criminal Defense Attorney for a Gang Related Allegation?
A: If you have been accused of committing a crime that has been tied to a criminal street gang, it is important to speak with an experienced defense attorney. It is technically possible to represent yourself. You could also potentially work with a court-appointed attorney. However, these are not ideal routes when you are facing the serious penalties that are tied to street gang-related situations. It is critical to find a skilled defense attorney with experience in defending gang-related crimes. Doing so is likely to have a noticeably positive impact on your outcome.
Q: What Is the STEP Act?
A: The STEP Act, or Street Terrorism Enforcement and Prevention Act, was passed by the California state legislature in response to the increase in gang-related crime in the late 1980s. It was designed to target criminal street gangs and their activity throughout California. This act makes it illegal to participate in a street gang and adds a sentencing enhancement if convicted.
Q: Is It Illegal to Influence Someone to Stay in or Join a Criminal Street Gang?
A: Recruiting someone to actively participate in or join a criminal street gang is not legal. Even just soliciting for a street gang is punishable by sixteen months, two years, or three years in state prison. Threatening others to participate in the gang on two or more separate occasions within a 30-day window carries a punishment of two, three, or four years in state prison. Using physical violence to force participation results in three, four, or five years in state prison.
Gang Crime Defense With Gibbons & Gibbons
The team at Gibbons & Gibbons understands the gravity of a gang-related crime charge. We do not judge you for your situation. We can work diligently to ensure your rights are protected, regardless of the circumstances of your case. Even if we are not able to get the charges dropped, we may still be able to help eliminate the gang-crime portion of your charges. This can reduce the total sentence you are facing. Contact Gibbons & Gibbons to fight Los Angeles area gang crime charges and potentially avoid the resulting consequences.