Burglary Defense Attorneys in Los Angeles, CA
Dependable Advocacy When It Counts
In California, burglary is a type of theft crime when a person enters any room, building, or locked vehicle intending to commit a felony once inside. Unlike more typical theft crimes—typically charged as misdemeanors—burglary could put you at risk of felony sentencing, leading to devastating consequences.
If you were charged with this crime, it is crucial that you avoid the potential fines and jail time by calling the Los Angeles burglary lawyers at Gibbons & Gibbons for a free consultation about how to defend yourself. We bring more than 60 combined years of experience to each case we take, and we are prepared to vigorously fight for your freedom.
Call (562) 802-3602 now to get started on your free consultation. You can also contact our firm online.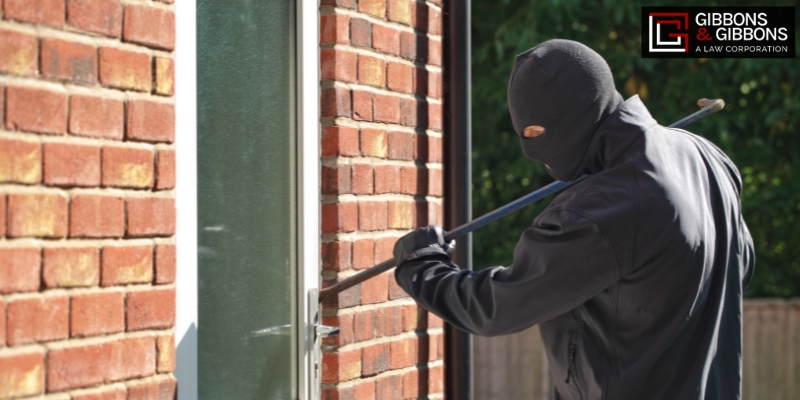 Criminal Sentencing for Burglary in Los Angeles, CA
The sentence for a conviction of burglary will depend on the circumstances of the crime itself, but it will be treated as either a first or second degree felony. Entering a home or other domicile with the intent to commit grand or petit larceny is grounds for a first degree charge. A conviction can carry up to six years in prison with additional fines. Entering a building in order to commit a felony is a second degree crime and can be charged as a misdemeanor or a felony, putting you at risk of a year or more in jail.
Common Legal Defenses to Burglary in California
Once you are arrested or charged with burglary, it is common to feel overwhelmed and confused. However, it is important to remember that you still have rights. At Gibbons & Gibbons, our award-winning criminal defense attorneys are here to ensure that your criminal proceedings are carried out fairly and that you have the best chance to tell your side of the story. Our firm has over half a century of combined legal experience which means we can put a sound defense strategy together for you.
We can argue on your behalf that:
Your arrest was a case of mistaken identity
You happened to be present when the offense was committed but were not involved
You did not intend to commit a felony before entering the building or room
You were under the impression you were given the right to take whatever items are in question
The items in question belong to you
If you are convicted, there are other strategies we may explore to help you obtain a lesser sentence, such as through community service, probation, or educational programs. Your future is important to us, and we want to help you find a way to feel hopeful about it.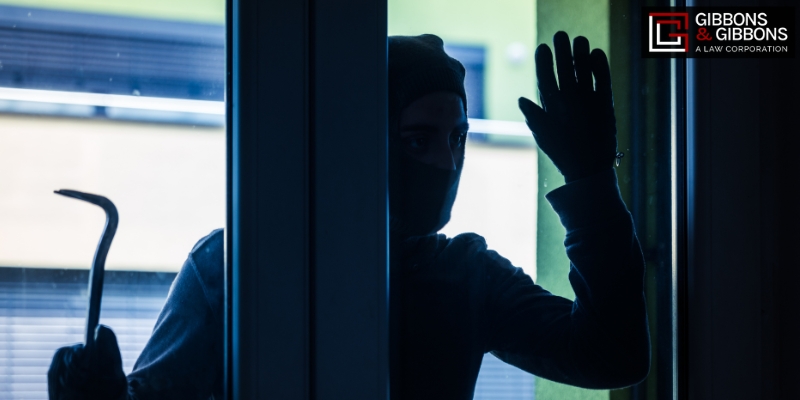 Contact Our Los Angeles Burglary Attorneys
If you have been accused of burglary, get the professional, experienced, and award-winning criminal defense you need to protect your freedom. Gibbons & Gibbons works hard to contest our clients' charges and can fight on your behalf. The sooner you call, the more time we will have to find out exactly what the charges are against you and how to fight them. Just because you were accused of a criminal act does not mean you are a criminal. Our firm is on your side.
our Los Angeles burglary attorneys have handled thousands of cases over our decades in practice—we know what it takes to win. Whether it is through negotiating with your prosecutors, having charges thrown out, or challenging the validity of the evidence in your case, Gibbons & Gibbons will explore all your available legal options to get you the best chance at a hopeful future.
Call (562) 802-3602 now to schedule your free initial consultation. Serving clients in Los Angeles and other surrounding communities like Whittier, Bellflower, Downey, Hawaiian Gardens, Long Beach, South Gate, Bell, Bell Gardens, Paramount, La Mirada, Artesia, Pico Rivera, Montebello.