Drug Offense Attorneys in Los Angeles, CA
More than 60 Combined Years of Experience on Your Side
In California, most drug offenses are felonies. Possession of small amounts of marijuana can be charged as a misdemeanor, but drug crimes that involve large amounts of drugs or serious Schedule I, II, or III drugs carry lengthy prison sentences and thousands of dollars in fines. At Gibbons & Gibbons, our drug crime lawyers can help you fight the charges and protect your future in the Los Angeles County and Orange County areas.
Any time you are charged with a drug-related offense, you face the possibility of fines, jail time, and the difficulty of having a criminal record following you around for years to come. Do not take chances if you have been arrested on drug-related charges.
Call (562) 802-3602 now or contact us online to schedule your free consultation and plan your defense.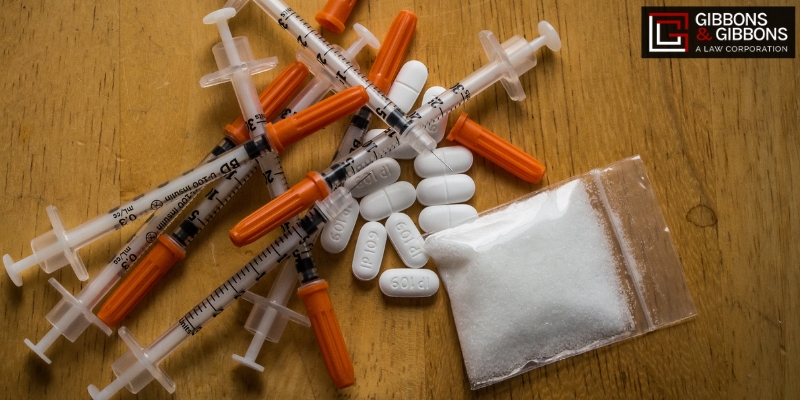 Drug Crime Charges in Southern California
Every drug charge is serious, and it should be handled in that manner. Our team at Gibbons & Gibbons has over 60 combined years of experience fighting these kinds of charges. We know how to help our clients tell their side of the story, protect their rights throughout all the legal proceedings, and obtain the best possible outcome for their situation.
Some of the drug crime cases we handle include:
Manufacturing
Trafficking
Whether your charges involve marijuana, cocaine, heroin, LSD, PCP, prescription drugs, or any other controlled substance, we know the law, and we can help you use it effectively. Our lawyers can build a strong case to prove you were not involved or that you were unaware of drugs' existence or presence. You should not have to pay the serious penalties for someone else's crime or for a crime that never happened.
Drug Crime Defense Strategies
During your free consultation, our goal will be to help you understand your legal options and craft a strategy to work toward a more favorable outcome. As your representative, we will work with law enforcement and prosecutors to learn more about the circumstances of your arrest and look for advantages. For example, if law enforcement obtained evidence against you unlawfully, that evidence cannot be admitted into court.
Effective defenses against drug crimes include:
No illegal substances were found: It is not uncommon for law enforcement to arrest someone on suspicion of possession. In these situations, requesting evidence can prove that they don't have grounds to incriminate you of having illegal substances.
Unlawful search and seizure: Police officers cannot obtain evidence against you without proper cause. During our investigation of your case, we may be able to access police footage (if there was any) and show that any evidence from this search must be thrown out.
Lawful possession: If you had a prescription or some other legal reason for possessing the substances in question, you should not be charged as a criminal.
Schedule Your Free Consultation Today
Gibbons & Gibbons is dedicated to defending people who have been wrongfully accused of any drug crime. Criminal defense has been our family tradition for many years, and we have a solid record of success and an excellent reputation. When you retain our firm, we serve as your attorney and work with you to create a strategy that provides you with the best possible chance of securing a successful case result.
Our firm has helped thousands of clients avoid the serious consequences of criminal convictions. With our help, you may be able to obtain a reduced sentence, get charges dropped, and ensure your rights are protected throughout your entire case. We proudly represent clients in Los Angeles and Orange County, including Cerritos, Long Beach, and Bellflower.
Call (562) 802-3602 or contact us online now to get started. We represent clients across Los Angeles and in other surrounding communities like Whittier, Bellflower, Downey, Hawaiian Gardens, Long Beach, South Gate, Bell, Bell Gardens, Paramount, La Mirada, Artesia, Pico Rivera, Montebello.